our story
our story.
Hey, we're Mariah and Tray and we're happy you found us. Our goal is to help you transform boring rooms into bright, authentic spaces that capture your personality, impress guests, and create a sense of joy and calm.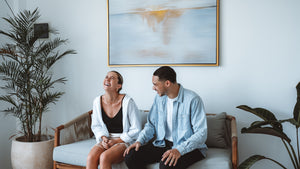 Just an ordinary couple who cares.
In 2019, we were both new to Chicago, and decorating our apartment was our first big adventure. Turns out, we came across a problem when searching for art. Did we want to break the bank and spend thousands at an art gallery? Or simply purchase generic art from a big chain store and throw quality and originality out the window? That's when it clicked. Making a space your own should not be complicated, expensive, or overwhelming. That's where Vybe Interior comes in. We create gallery-quality canvases from exclusive artists, hand-stretched in your local area.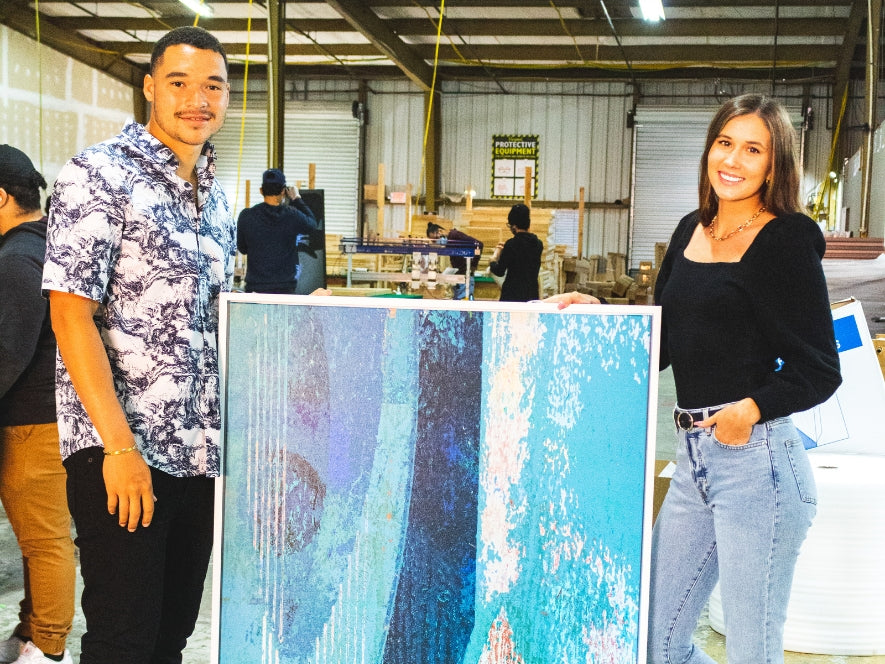 Handcrafted with love Locally
We aren't just machines producing canvas after canvas. All of our products are handmade-to-order locally. We pay every single one of our employees a living wage and support our incredible local community.
A small team who cares
We're a very small but nimble crew of creative, art loving, interior design obsessed friends. We're not some mass retailer drop shipping stock art from third-world countries—and we never will be.
Exclusive art by incredible artists
We work with emerging and established artists worldwide to elevate your space. And with every purchase, one of these artists earns an awesome commission that supports them in their craft.
Exclusive, high-quality art at an affordable price.
By creating our canvases locally, we're able to pay local wages to support our community while also maintaining incredibly high quality standards. All pieces are custom-made to order from natural hardwood and we're committed to ethical manufacturing and sustainability. This is wall art you'll love for life. There's not a single canvas that anyone on our team wouldn't love to hang in our own home.